We pride ourselves in offering a highly professional and friendly service that gets results for our clients (i.e. increased sales!) And we are lucky enough to get lots of amazing feedback from our clients. Here's a selection of the kind of thing we hear regularly:
Michael Young, Marketing Director of The Luxury Gap


I thought you may like to know that as a result of the email we sold out on the event in 24 hours!
Kate Johnson, Owner of Katharine Jayne


These guys are so easy to work with and really know their stuff. When it comes to generating more sales for my business, it's a no-brainer! I thoroughly recommend Email Jam.
Mel Rollinson, Owner of Woodie & Morris


Working with Redhead Media has always been a pleasure. They have designed and created two websites for me and I use their brilliant Email Jam service where they create and send my monthly emails to my customers. Friendly, professional, results-driven and good value. What more could you ask for?
Richard Oldham, Manager of Haslemere Hall Theatre & Cinema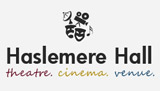 Redhead media has not only created a website for the Haslemere Hall, but formulated a complete and unique marketing style. Thanks to Email Jam, our website visitors have quadrupled in the last year, making it the centre our or marketing strategy.